Each month, look for a new Make of the Month project that will be featured in the Makerspace.  These projects are designed to be completed in a brief amount of time while introducing you to new skills and materials.  If you feel like making but aren't sure what to work on, grab a packet of materials and instructions for the featured project and get started!
Make of the Month: September 2018
MAKER NOTEBOOK
Every maker needs a notebook for jotting down ideas, taking measurements, creating lists, and to document projects. Why not make your own notebook?! It's easy to do. You just need: some copier paper (or any 8.5″ x 11″ paper), 1 sheet of 8.5″ x 11″ cardstock, a needle and thread, something to poke three holes through your pages, and whatever you like to embellish and make it your own.
Pick up a packet today!
Instructions here and stitch guide here.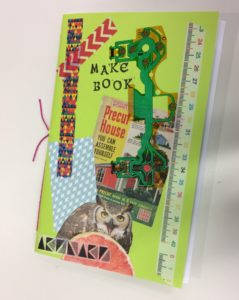 PROJECT ARCHIVE (previous Make of the Month projects)