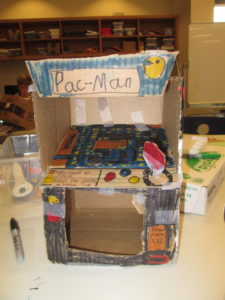 The Makerspace at RGL is available for makers before school @ 7:30 AM and after school, Monday-Thursday, until 4:30 PM.  The Makerspace may also be available during specific class periods and one day a week during recess.
MAKERSPACE RULES:
1. SAFETY FIRST!
Make sure you have permission before doing anything dangerous–if it says "adult supervision required," you MUST have adult supervision.  You may NOT solder without an adult present and aware!
2. RESPECT
Respect YOURSELF, your PEERS, the MATERIALS, the SPACE.  Make with purpose and share your knowledge and supplies.
3. CLEAN UP
Leave the space cleaner than it was when you got here!  Check the floor and counters and put supplies in their correct places.  Put current projects in bins and on shelves.
4. USE ONLY WHAT YOU NEED
Only take supplies for your current project(s) and leave the rest for others to use.
5. BE KIND
Support each other; be kind to each other; help each other.  Making involves taking risks and making a lot of mistakes.  We need to be able to count on each other for support.
IF YOU DO NOT FOLLOW THESE RULES, YOU WILL BE ASKED TO TAKE A BREAK FROM USING THE MAKERSPACE.